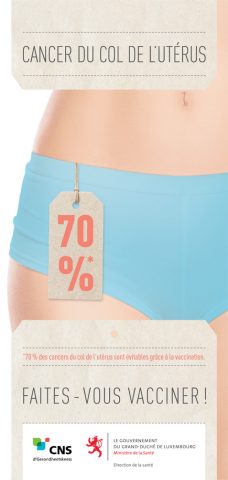 Beneficiaries
Girls between the ages of 11 and 13 years included are invited to get vaccinated.
Following the recommendation of the "Conseil Supérieur des Maladies Infectieuses" in October 2014, health authorities decided that as of 2015, only the bivalent vaccine (Cervarix®) will be covered for young girls aged between 11 and 13 years inclusive.
Studies have shown that a maximum of efficiency is guaranteed if vaccination is carried out before the first sexual contact. Thus, this vaccine can prevent strains of HPV that are responsible for about 70% of cervical cancers.
How to get vaccinated
Make an appointment with a doctor registered in Luxembourg.
Vaccination consists of 2 injections administered with an interval of 6 months.
The vaccine will be issued for free in Luxembourg pharmacies upon presentation of a separate medical prescription for each injection.
Do not forget to bring your daughter's vaccination booklet with you, so that the doctor can write down the administered vaccine.