The transition period following the withdrawal of the United Kingdom from the European Union ends on 31.12.2020 and the provisions of the withdrawal agreement will apply as of 01.01.2021.
The consequences of the United Kingdom's withdrawal from the EU with regard to social security are as follows:
Until 31.12.2020
Until 31.12.2020, the provisions of the Social Security Coordination Regulations (EC Regulations 883/2004 and 987/2009) continue to apply normally in relations with the United Kingdom. The same applies to the European Health Insurance Card (EHIC).

As of 01.01.2021
From 01.01.2021, the provisions of the coordination will continue to apply to the persons covered by the withdrawal agreement, under the conditions laid down in that agreement.
The European Health Insurance Cards (EHICs) currently in circulation issued by the United Kingdom will no longer be valid after 31.12.2020.
For those who will continue to benefit from the full application of the coordination rules, a new card will be issued ("Citizen's Rights' EHIC").
Here is the model of the card :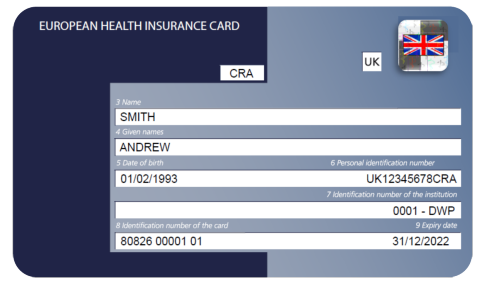 Students
Students residing in the United Kingdom and studying in a Member State will be able to continue to receive the necessary care in that Member State until the end of their studies. These students will receive a new card which will be valid only for the duration of the studies and in the State where the studies are pursued. It is important to note that the card for students will be valid only in the country where the student is studying and which will be indicated in the PIN field (LU for Luxembourg).
Temporary stay
For persons temporarily residing in a Member State on 31.12.2020 who are entitled to receive the necessary care until the end of their stay in that Member State under Article 32 (1) (c) of the withdrawal agreement, a provisional replacement certificate must be issued to them if healthcare proves necessary.
Necessary healthcare in the United Kingdom
Regarding the way in which insured persons from Member States who will continue to be able to receive necessary care in the United Kingdom after 31.12.2020 will be distinguished from other insured persons, this question is still under discussion in the Administrative Commission for the Coordination of Social Security Systems. More information will follow.