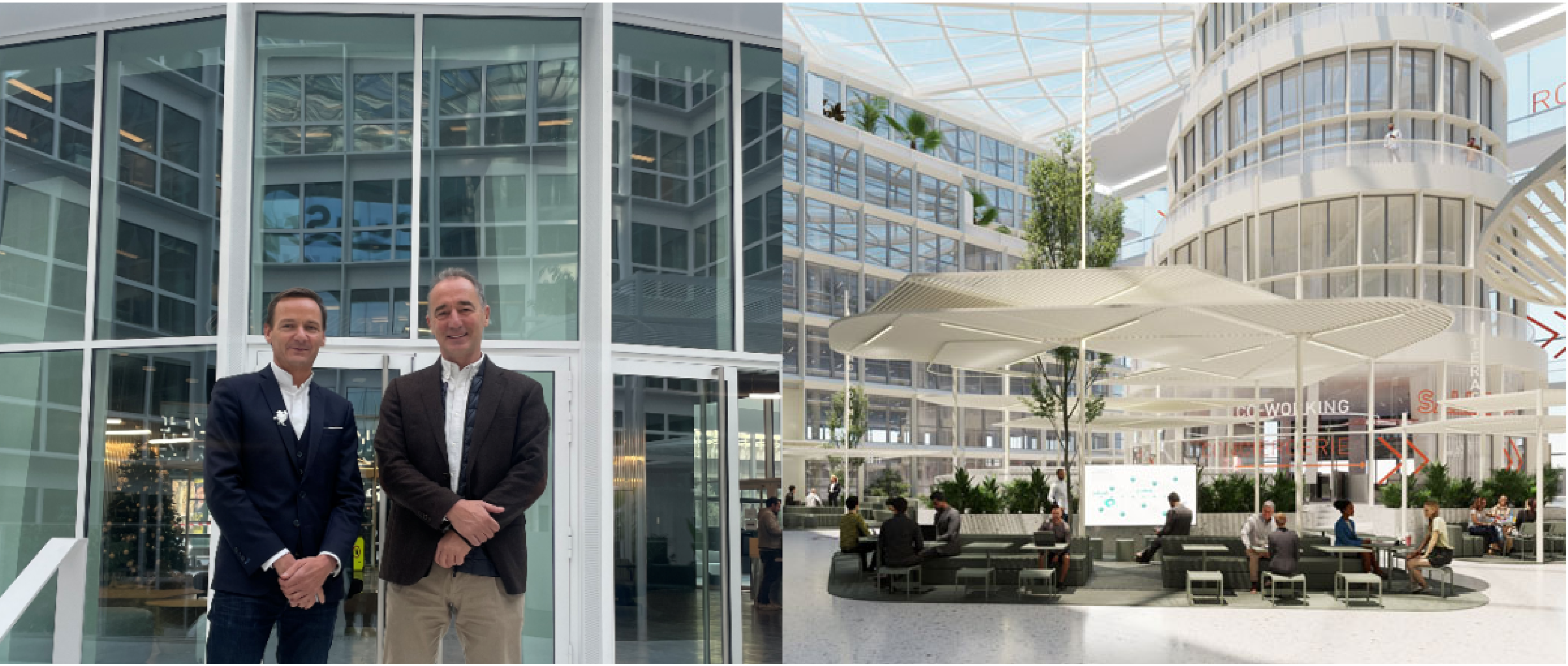 On Friday 16 December, we had the privilege of visiting PariSanté Campus and meeting Professor Antoine Tesnière, CEO of the Campus (see photo), Alexandre Prihnenko, COO France of Oviva and Annie Prévot CEO of ANS with part of her dynamic and competent team from the Agence du Numérique de la Santé (ANS).
Under the direction of Professor Tesnière, this campus has become, barely a year after its creation, the heart of research, innovation and entrepreneurship in digital health in France.
The resources are impressive: 20,000 m2 dedicated to digital health, hosting the big names in research such as INSERM and INRIA, public operators such as the Health Data Hub and the ANS, and almost 80 industrialists and start-ups on the same site.
Professor Tesnière's challenge:
To bring together in one place the right expertise and create the right synergies to accelerate the digital transformation of the healthcare system. And this with a shared conviction that international collaboration is essential for Europe to create its place in this gigantic, highly competitive market: close collaboration with comparable initiatives in neighbouring countries, but also political collaboration on a European scale to find agreements on common standards and norms and thus offer the numerous entrepreneurial initiatives the critical mass of a European market, which is essential to achieve the full potential of their e-health projects.
The example of Oviva
Alexandre Prihnenko presented Oviva, before 5 years a small start-up and now a company with 600 employees offering in Switzerland, Germany, England and France an innovative service to patients who need to change their eating habits. This service efficiently combines a health application with personal monitoring by health professionals. The example of Oviva shows that entering the healthcare market is not easy for digital players and that a smart approach based on a good understanding of the healthcare system and its stakeholders' needs is probably the best formula for successful market access.
The SEGUR program
With Annie Prévot and her colleagues, we had an exceptionally good discussion on the SEGUR program launched in France and entrusted to the ANS. This program, which aims to interoperability and secure sharing of health data between health professionals and with users in order to improve prevention and care, gives the ANS the financial means necessary to help publishers of software for general practices to modernise their software in terms of security, interoperability and ergonomics. In return for the financial aid, publishers must demonstrate that they meet around 150 technical and functional requirements divided into 12 blocks, with proof of compliance verified by the ANS as part of its software referencing procedure. One year after its implementation, the SEGUR program has good results: out of 70,000 computerised practices, 50,000 have applied for referencing. It seems obvious that we would like to draw inspiration from the strengths of the SEGUR program to consider a similar approach in Luxembourg.
Thank you for this exceptional day of discovery, the many details and informations will help us to make the best possible choices for the growth of digital health in Luxembourg.
Participants :
Christian Oberlé, Président de la Caisse nationale de Santé et Président du Conseil de gérance de l'Agence eSanté
Nicolas Kremer, Directeur de la Caisse nationale de santé et membre du Conseil de gérance de l'agence eSanté
Hervé Barge, Directeur Général de l'Agence eSanté